Book release: India: the Urban Transition - a Case Study of Development Urbanism




professional practice




2007-09 - founder of UiD Shanghai Co., Ltd
UiD Shanghai Co., Ltd is a planning and design consultancy registered in P.R.China.

2001-05 – co-founder of CoMa
CoMa is a research project on regional urbanization and multicultural societies.

1999-2001 – co-initiator of Irma+
Irma+ is a framework for interdisciplinary collaborations between architects, artists and designers in the Copenhagen area.

1997 – founder of UiD
UiD is a networking urban consultancy offering innovative concepts and strategies for the development of dynamic and sustainable urban environments.
Portfolio [10MB] pdf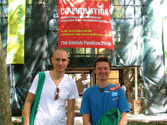 Fredrik Fritzson and Henrik Valeur in Venice, 2006

1994-95 – architect at OMA
Educatorium, Utrecht University building. Project by OMA/Rem Koolhaas and Christophe Cornubert, Richard Eelman, Michel Melenhorst, Jacques Vink, Gaudi Houdaya, Enno Stemerding, Frans Blok and Henrik Valeur.
Letter of recommendation: While working with OMA, Henrik Valeur was an important member of the team for the definitive design of the Educatorium project for the University of Utrecht. His ability to quickly assimilate complex situations and requirements combined with a critical design sensibility made for valuable contributions, and raised the general intelligence of the project.